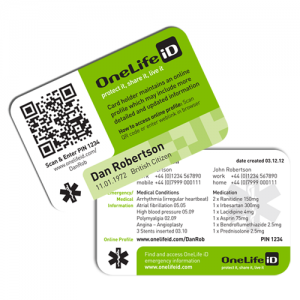 We have just assisted OneLife iD with the launch of their new OneLife iD Card. This card is a combination of OneLife iD's signature QR code, which links to a personal page on their website, and a traditional emergency contact/medical information card.
There have been several major components to the new product, which we have worked on in conjunction with Windmill Computing:
We have added a custom product builder to the OneLife iD website, that allows users to see how the information they are entering will appear on their card.
We have added an administrative utility that allows the details of cards to be downloaded.
We have created a utility to generate the QR code images for the cards. This uses the card details download.
We have created a vivID card project that contains the card design (front and back) and the associated database. The database is populated using the card details download.
The card printing itself is handled by Windmill Computing, who offer a bureau service to organisation that don't see buying an ID card printer as economical based on their printing requirements.