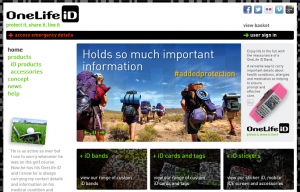 Recently we have been working with OneLife iD to revamp the home page of their website and the general layout of the pages.
The home page now incorporates a couple of animated elements advertising their product:
A large slide show in the main content section, which displays examples of how the OneLife iD products can be used
A small slide show of testimonials from happy customers
The home page and general layout have a number of roll-over images; the former are below the large slide show, while the latter are to be found in the standard page header.
The user navigation has been reorganised to make it simpler:
The button used to access emergency details is now in the main menu bar to the left
The sign in/sign out buttons are in the menu menu bar to the right
The links to the various OneLife iD social media sites are now via icons at the top left
The link to the shopping basket is on its own below these icons
We have also added the facility on the public profile to share it with other users on Facebook, Twitter and via e-mail.